"Sharing a Laugh" with Marat Safin DVD





"It's too easy", "I need a bigger one", "I was shocked", "He was also sleeping", "Like to go to smoke a cigarette and have a coffee?", "With all due respect", and "More people to break my balls." The questions to these answers and more can be found on the "Sharing a Laugh" with Marat Safin DVD.

This is more than just an in-depth interview with one of the professional tennis tour's most charismatic and interesting figures. It also contains a career retrospective that traces his steps from his birth place in Moscow to his 2 Grand Slam championships.

"Sharing a Laugh with Marat Safin," is co-hosted by Niclas Kroon, former Swedish ATP touring pro, and Suhler. The show includes comments about Marat from his former coach Peter Lundgren. Lundgren, who coached Marat from 2004 - 2006 and Roger Federer from 1997 – 2003, is now England's Davis Cup Coach. Grand Slam Champion and Television Commentator Cliff Drysdale also shares a few thoughts about Safin.

Marat's career accomplishments include a former #1 world ranking, U.S. Open and Australian Open titles, a 4-3 win / loss record over Pete Sampras, a 3-3 win / loss record with Andre Agassi, and more than 200 weeks in the Top 10.

The DVD contains the interview, which runs 22 minutes, plus two very nice extras. There is an extended "Fan Cut" that runs 33 minutes and includes comments from Marat's former coach and Grand Slam Champion Mats Wilander. Viewers will also find "The Golden Bagel Award Story" featuring the inaugural award presentation to Roger Federer. SideSpin Productions, Inc. honors the top male tennis pro who delivers the most "bagels", (6-0 sets), to his opponents throughout the year. You can go to the Golden Bagel Award™ website www.goldenbagelaward.com to learn more about the irreverent award.

Since Safin is a huge international sports figure, the DVD includes subtitles in Russian, Spanish, and Chinese to help make it accessible to more fans.

The special edition "Sharing a Laugh with Marat Safin" Commemorative Poster is also available.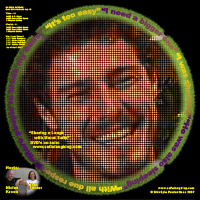 Take a look!
Read the Reviews
Write a Review