06/01/2007 • SideSpin Productions bakes the Golden Bagel

. . . . . . . . . . . . . . . . . . . . . . . . . . . . . . . . . . . . . . . . . . . . . . . . . . .

AUSTIN, TEXAS JUNE 1, 2007 -- SideSpin Productions released a new online video today titled The Golden Bagel Award™ Story. The video explains the origins of this annual accomplishment, and documents the presentation of the inaugural award to current World No.1 Roger Federer.

"Federer received the first award when served up 12 bagels (6-0 sets) to his opponents in one year," says award co-creator Tom Suhler. "in addition to Federer's award presentation, The Golden Bagel Award™ Story also reveals the creative spark the zapped Niclas Kroon and I in the head one day in 2004."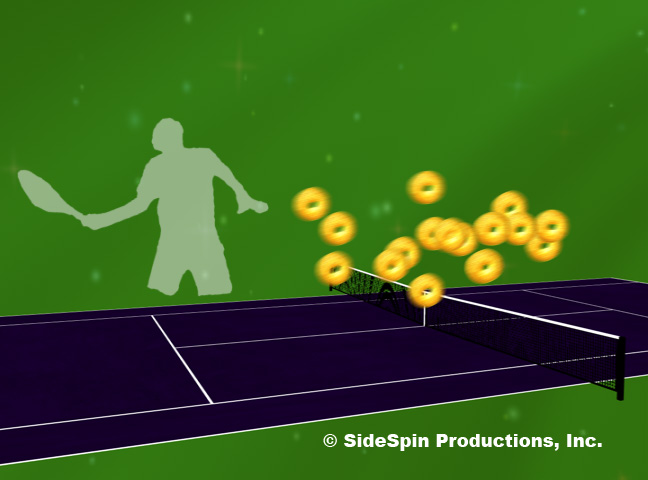 "Last year Roger won the award for a second time when he handed out 18 bagels. We decided to put that feat into perspective by adding a little bit of bagel history. Heck, we even had a little fun with Roger's Wimbledon attire to help keep the video from getting too stale."

The three and a half minute video will be included as an extra on the up coming "Sharing a Laugh with Marat Safin" DVD. You can view promos and purchase the DVD on the web at www.safinlaughing.com.

You can also keep up with the current bagel count by visiting the Great Bagel Chase page.

About Golden Bagel Award™
To qualify for the Golden Bagel Award™, a player must either be ranked in the Top 8 of ATP singles players or participate in the year-end Tennis Masters Cup. The winner is the pro who captures the most 6-0 sets between January 1 and the start of the Masters. Davis Cup matches and incomplete sets are not counted. The Association of Tennis Professionals (ATP) website is used as the definitive data source. In the event of a tie, the number of "fries" (6-1 sets) will determine the winner.